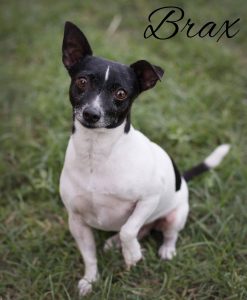 BRAX
MINI FOX TERRIER
MALE
6 YEARS OLD
$350 TO ADOPT
Brax has been in foster care for over 2 months after coming in with a badly broken leg. Since having emergency surgery to insert a plate onto the bone, Brax has been recuperating in a crate so that the bone could heal properly. Whilst the injury will take another 6-8 weeks to fully heal, Brax is ready to go to his new home, however, he will still need to be restricted from running and jumping for at least 6 weeks. He is a snuggly little fella but he is quite content to do his own thing when you're busy. He is great with other dogs, chickens and children.
Brax is desexed, microchipped, vaccinated, wormed, flea and tick treated as well as, vet checked. Call 0409 184 685 between 9am-4pm to meet him.
To adopt you will need photo ID, proof of residence, as in a current rates notice or a rental agreement showing approval to have animals, as well as vaccination records for any current pets you may already own.